The hyperbaric medicine is also known as Hyperbaric Oxygen Therapy (HBOT) is the medical use of 100% pure oxygen in pressurized chambers known worldwide as hyperbaric chambers. These chambers normally work at pressures of 1.4 to 2.5 absolute atmospheres (ATA) according to specifications established worldwide.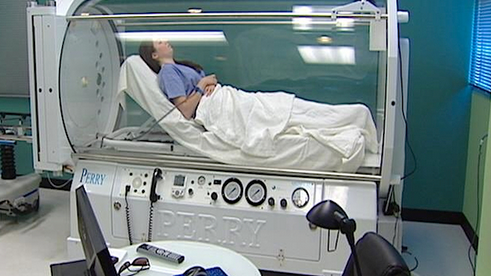 When a person breathes pure oxygen at a pressure above atmospheric pressure, a significant increase in dissolved oxygen in the plasma is achieved. With the increase of oxygen is achieved that those areas of the body that are lacking in oxygen, benefit from this oxygen and metabolic pathways are activated in those physiological mechanisms depressed by hypoxia (lack of oxygen). This treatment is applied to the following pathologies: Carbon monoxide poisoning, gas gangrene, diabetic foot, necrotizing fasciitis, post-radiotherapy injuries, decompressive disease, aeroembolism, osteomyelitis.
You who is the director of a hospital or the owner of a clinic can offer your patients this treatment, and Tekna can be your perfect ally to achieve this goal.
On your website hyperbaric-chamber.com you can review all the products and services we offer. We design and build monoplace hyperbaric oxygen chamberin the following models:
Monoplace hyperbaric chamber: Designed to serve one person at a time. These chambers are pressurized with 100% pure oxygen.
Multiplace hyperbaric chamber: Designed to serve several people at once. These are the most appropriate because it allows doctors and other health personnel to accompany patients and provide the necessary care in a timely manner. This chamber allows attending patients who are even in intensive therapy.
Veterinary hyperbaric chamber for sale: Designed for small and large animals. Of these, there are two models the Tekna Horse and the Camel, which are the most advanced high animal value HBOT systems available.
All the services that we offer in Tekna are included in the hyperbaric chamber cost, consult our website hyperbaric-chamber.com or contact us through our social networks. Your satisfaction is totally guaranteed.